Marketing Translation Services
Fast Marketing Translation Services that Localize Your Message
The certified translators at One Hour Translation are marketing specialists who are prepared to transform your current marketing materials into culturally accurate and engaging content for your target market. You can trust us with the entire process from initial planning to delivery of publish-ready files. When it comes to a global marketing campaign, a direct translation is rarely all it takes. When completing a marketing translation, our experts translate your message, not just your words.
Your marketing materials will be a hit internationally after a marketing translation with the sound and feel of a native speaker. The vast network of translators at One Hour Translation ensures that you will always be working with a native speaker locally situated in your target market. Take advantage of one of our 15,000 expert translators working in 73 languages to make an immediate impact in your international marketing materials.
Request Information & Try It Free!

Experience the difference of the fastest marketing translation service in the world. With 24x7 service, your materials will be ready immediately at a completion rate of about 200 words per hour. Keep track of your order with a real-time tracker on our website that follows the status of the project.

based on
2288
customer reviews
We always allocate your project to one of the 15,000 professionals that is best suited for the job. This results in accurate, high quality marketing translations every time. We also have a quality assurance team that carefully reviews the final deliverable of every translation to ensure reliable marketing translations.
We offer a fixed per-source rate that is competitive and allows for around the clock attention to your marketing translation. Quick turnaround times and uncommon languages are just a few of the features included in the price.
Marketing Documents we translate
advertisements, Adwords, keywords, banners, slogans, taglines, billboards, business cards, circulars, sales presentations, sales scripts, viral marketing, powerpoint presentations, multimedia content, documentary scripts, video scripts, commercial scripts, demonstration scripts, radio advertisements, white papers, sales brochures, bulletins, product catalogues, service descriptions, newsletters, leaflets, letters, press releases, promotional materials, voice-over scripts, product data sheets, website content, corporate communications, corporate presentations, internal and external communication, speeches, interviews, audiovisual communications, posters, signs, direct mail, flyers, postcards, flash ads, promotional leaflets, marketing proposals, product launches, online marketing, informational brochures, telemarketing scripts, public relations, branding, brand recognition, direct marketing, internet marketing, social media marketing, marketing introductions
Trusted by Worldwide Brands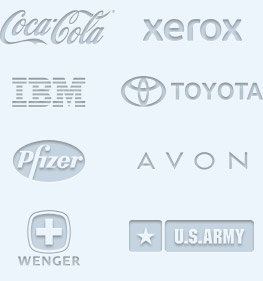 "We had a great reputation nationally and wanted to expand our services to tackle the international market. We knew we had great marketing ideas and advertising campaigns for companies in a variety of industries, but we needed someone we could trust to translate our ideas and ensure that they were culturally accurate and relevant. Working with One Hour Translation was the key factor that allowed us to interact in international markets. We gained a few top multi-national corporations as clients because we could immediately translate materials with One Hour Translation at a moment's notice. "
Languages we translate to
Spanish, German, French, Russian, Italian, Chinese, Korean, Japanese, Arabic and
Want to Start Your Translation Project Now?
About One Hour Translation
One Hour Translation is one of the most reputable internet based marketing translation services that puts 15,000 expert translators at your fingertips. Working with over 2,000 language pairs in 73 languages, we provide high quality marketing translations around the clock. Every One Hour Translation translator works within their native-speaking region (i.e. Portuguese translators in Brazil) to ensure that every marketing translation produces engaging content that makes an impact and has the feel of a local. We specialize in marketing translations of a range of materials including product launches, presentation materials, and advertisements.
Marketing Translation Services
Marketing translation is the process in which the content of marketing materials or advertisements is translated to the native language of a target market in order to achieve the best results. It is imperative that the translator communicates the overall message of the marketing. A direct translation is not enough as a marketing translation must reflect the values and culture of the local market to be effective.
Privacy and Confidentiality
One Hour Translation upholds the highest standards of privacy and confidentiality. Before each certified translator begins working with us, they are required to sign an NDA. Our terms of service provide additional security to your documents. In cases where a custom NDA is required for certain industries, please contact our legal team for more information by filling  out the form above.
Certificate of Translation Accuracy
At the conclusion of every marketing translation, clients are provided with a certificate of translation accuracy by One Hour Translation. United States courts, embassies, immigration services and many other government agencies accept this certificate as a legal document. Please note that you must also have the certificate notarized by a public notary as we do not offer notarized translation services.
Featured on:
One Hour Translation is considered the fastest professional translation service in the world.
One Hour Translation is considered the fastest professional translation service in the world. If you have an urgent translation please read first the translation speed section. The fastest way to get your translation started is simply to submit it directly via the web-site.